Author: Anna Maluk
During the February half-term holiday, Congleton Museum hosted a series of free Roman themed activities to engage families and young people. The museum saw an unprecedented number of visitors, with the total reaching 389 across the five days of activities.
During Roman Week, visitors had the opportunity to learn about the types of food Romans ate and brought to Britain, as well as how to grind grain and build Roman roads. Costumes were provided so children could dress up as a Roman and try on Roman armour.
Each day included a different Roman activity. For example, on Wednesday, visitors could see the museum's extensive Roman hoards up close and witness conservation work being done on them, and on Friday the museum hosted a shield-making drop-in session.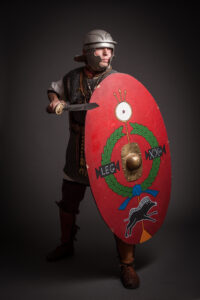 However, one day in particular broke a Congleton Museum record with 109 visitors in a single day. That was Thursday, when Roman reenactors from the Grosvenor Museum in Chester came with props such as authentic replicas of Roman armour, swords, shields and clothing.
The museum was a hive of activity during Roman Week, which was humbling to see considering museums all over the world are struggling to get visitor numbers back to pre-Covid levels.
This achievement would not have been possible without our extraordinary volunteers who greeted every visitor, told them lots of Roman facts and helped manage the crowds in our little museum.
Thank you to every visitor who came along and explored, and to each and every one of you that follow us on social media and engage with our posts. Every like, comment, and share helps spread awareness of Congleton Museum and all we have to offer.
Did you attend Roman Week at Congleton Museum? We'd love to see any photographs you took, please tag us on social media @congletonmuseum.